THE EARLY YEARS FOUNDATION STAGE (EYFS)
Since September 2008 we have been working alongside the Early Years Foundation Stage Framework (EYFS). All Registered Childcare Providers have a legal obligation to implement and follow the framework. In September 2012 the framework was revised and some changes were made in regards to the areas of learning.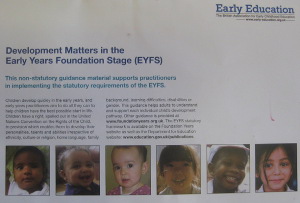 As practitioners we follow the Areas of Learning:
Prime Areas
Personal, Social and Emotional Development
Communication, Language and Literacy
Physical Development
Specific Areas
Literacy
Mathematics
Understanding the World
Expressive Arts and Design
Each one of the areas is as equally important, and depends on each other to support a holistic approach to a child's development.
Early years government funding
The LEA early years government funding (grant) is for 3 and 4 year olds. All children are entitled to the funding, the term after their third birthday. The maximum amount of hours you can claim is 15 per week term time this is over 38 weeks (Term Time only). You are also able to claim the 15 hours over the full year by claiming 10/11 hours per week, an additional 15 hours is available for children who are eligible. Please contact the nursery for more information regarding Government Funding and your options.
A Parental Contract form will need to be completed stating that your child attends the setting and the sessions in which they attend. This is then sent to Stockport Council and the funding will be deducted off your nursery fees.
We are now able to offer two year old funding to those who are eligible, please see your health visitor for more information and a confirmation letter. This can be claimed the same way as the Three Year old funding.
Useful numbers
| | |
| --- | --- |
| Glen Jakes nursery | 0161 487 1157 |
| NHS Direct | 111 |
| Ofsted | 0300 123 1231 |
| Family info link | 0808 800 0606 |