A Tour of Our Nursery
Baby Room Ratio - 1 staff: 3 children
We have created a warm homely environment where babies can explore the world around them freely with the support of professional, friendly staff. Their development is aided by carefully equipped activities. Our baby room is situated within its own unit, away from the older age groups ensuring a safe, secure quiet setting, an area that is specifically designed so that the babies can access, explore and investigate using their senses such as the book area with soft books and cushions, heuristic area with various types of materials to explore, baskets with toys that make sounds, creative table for messy activities, a small home cooker, plastic food and crockery. Floor area to move around and discover new friendship, baby gym, mirrors, sand and water play.Your baby will thrive in our loving and caring environment that encourages exploration and investigation through play.
The babies have all year round access to an enriched outdoor learning environment, including regular walks around our beautiful grounds, a breath-taking experience that visibly stimulates our younger generation, who we escort via pushchairs or holding the hands of the more mobile children who have found their feet and are now eager to explore, together with their own private outdoor grassed area where our babies enjoy a variety of soft play activities while visually interacting with our older children over the wooden safety fence that keeps the divide. As well as our outdoor area our baby room offers a spacious environment for the babies to explore freely, with designated areas for rest and quiet time, a sensory area, and the opportunity to indulge in plenty of messy play activities.
Parents Views
"We are happy with our child's progression at Glen Jakes and feel that he has settled in well and enjoys his days there".
"Our child has developed well over the past few months, he has become more confident".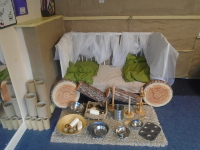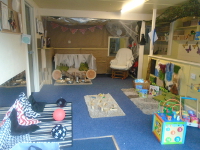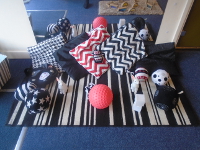 Waddler Room Ratio - 1 staff: 3 children
Provision for the Waddler's consists of a bright spacious room providing a safe, secure, welcoming and inclusive environment offering a wide range of activities catering for children of all abilities and stages of development.
The room is set up in such a way to encourage the children to make their own choices, promoting independence and social interaction. There are a lot of messy activities for the children such as sand and water play, play doh, gluing and sticking, painting, clay work etc. There are many toys and activities such as prams, dolls, dressing up clothes, kitchen, play house, work shop, hats and bags etc to enable the children to use their imagination and act out roles of people familiar to them such as mummys and daddys, doctors, fire people etc. We introduce musical instruments at a young age to allow children to gain a love for music. The children have adult led musical activities as well as being able to use them throughout each day. We have group activities each day where children will be encouraged to sing nursery rhymes and songs within a group and start to build a repertoire. At all times we encourage good behaviour, sharing, turn taking and table manners. We also encourage children to become independent with personal hygiene skills. Story time and book sharing is a very important part of our nursery as we understand the importance of children having/sharing books from a very young age, this will enable them to foster a love of language and listening skills. Children have free access to books throughout each day and participate within story times where the staff read a variety of story books as well as listen to story tapes.
Throughout the nursery we promote high levels of physical activities and during each day the children will participate in many physical activities to promote their physical development such as cars and bikes, see-saws and rocking horses, tunnels, mini trampoline, balls and hoops and many more.
The Waddler room has free flow access to a safe and secure outdoor play area which is used for sensory and physical activities.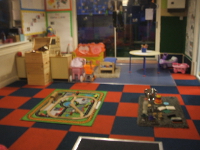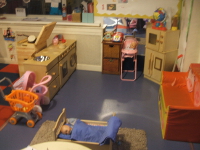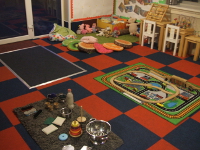 Our Tweenie room consist of two rooms which are carefully laid out to incorporate areas such as, free choice, role play, a nice relaxing book corner, mark making area, and space to get creative and messy with different materials.
Children are developing and progressing rapidly and activities are set to bring out the child's full potential encouraging them to explore, investigate and develop.
Children at this age are developing their own unique personalities by beginning to show own preferences and interests, through planned and spontaneous play. Using the children's interest within the planning creates fun opportunities for your child to interact, express emotion, become imaginative and develop self-help and life skills.
Parent views
"I am really pleased with my daughter's development progress, especially her language skills"
"Since my daughter has been coming to Glen Jakes, she has a lot of confidence which has helped develop her learning".
"Our son has really improved in his speech, remembering songs, listening and loves reading. Our son Really enjoys nursery and often talks about the staff".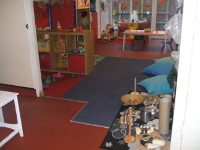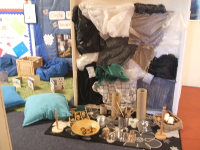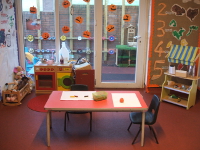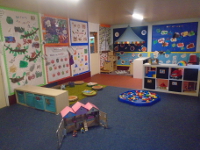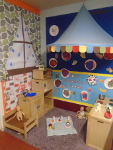 We offer a spontaneous, unique and fun learning environment where the main objective within this room is preparing your child for school. By the time your child leaves nursery to attend school we aim that they can recognise colours and shapes, count and recognise numbers to 10, recognise their written name, hold a pencil in their preferred hand and begin to form letters.
We provide opportunities and encourage each child to become curious, confident, sociable, and most importantly to gain respect for themselves as well as others.
The big room is spacious, bright and still very much planned to meet the children's interest and individual needs. During the time within the big room we form special friendships with others, and enjoy sharing our experiences with everyone through group discussions at circle time.
The big room has a variety of areas where the children can choose to go in and play. They include a Book Corner, Mark Making Area, Sand and Water Trays, Free Choice, Table and Floor toys. Also, a Role Play House which is changed around every 6 weeks or turned into a Ball Pool.
The conservatory is attached to preschool and is a quieter room where the children have the opportunity to work one to one with their key worker on activities preparing them for school. For example independent writing and problem solving.
Parents Views
"I have always felt happy and safe to leave him with all the staff."
"His thirst for knowledge is constantly met."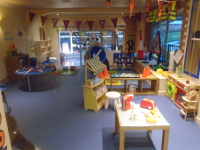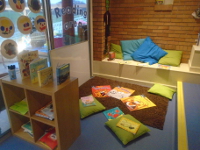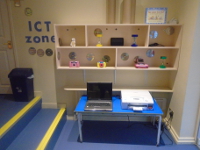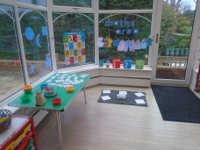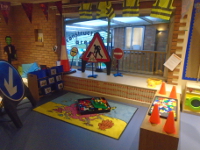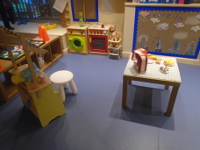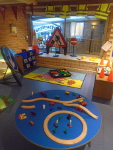 The nursery as a whole gets very much involved with visiting our immediate environment, getting their hands dirty within our green house and exploring the outdoors.
Outdoor play is part of the whole learning experience, and is carried out within our daily routines. We access our Outdoor Area all year round, enabling the children to obtain first hand contact with weather, seasons and their natural world around them, we liase with parent(s)/guardian to ensure the children are clothed in the correct attire as we see no reason why the children should miss out on the outdoor experiences we provide.
Our safe, secure outdoor play areas have an integrating fence dividing the areas so all the children can play imaginatively and explore with the reassurance that supporting staff are close by. The outdoor area consists of a mark making area, a large chalk board attached to the wall, a large mirror, books, climbing frames, hop scotch and road layout. There are large buckets with a variety of construction and sports equipment such as balls, bats and stilts.
We have an additional purpose built indoor/outdoor play area, our playhouse is situated within our grounds just a short walk from the nursery, our playhouse has its own securely fenced outdoor play area with a large sheltered canopy section for all the children to play in all year round. The spacious internal area has a multifunctional layout with a wide range of indoor and outdoor equipment, suitable for all our age groups.
Our Greenhouse is situated adjacent to the nursery, all our children have the opportunity to visit and spend time learning about the world around them. Activities in the Greenhouse range from exploration of soil in trays, investigating insects, growing vegetables or plants.
We take advantage of any Learning Opportunities we have on Nursery Grounds. On a weekly basis we will go for a walk around the nursery, watering the plants and feeding the fish, whilst discussing what we can see, hear and smell on the way.
As part of our Environmental Policy we provide weekly opportunities for each room to participate in Recycling. The Children learn about what the different coloured bins are for and get involved in putting the right materials into the correct bins.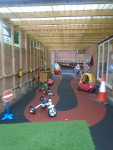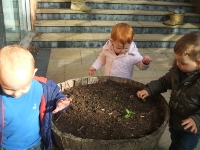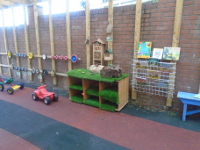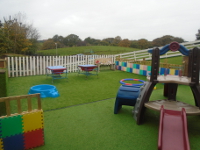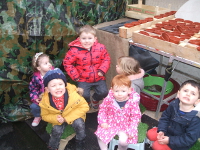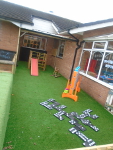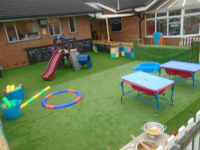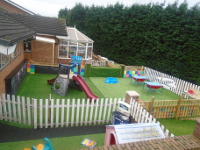 Adjacent to the nursery is the riding school which is fully accessible to the children all year round. Children have opportunities to gain knowledge and understanding of how the horses are cared for, where they live and what they eat.
Our purpose built playhouse is located in this area within the grounds that the children use as well as the beautiful woodland areas that they can explore through nature trails and picnics.
There is opportunity for your child to participate in various activities and riding lessons at the riding school, these can be organised via the nursery or direct with Glen Jakes Riding School.